Back to List
Acclaim
Montrose Trio makes rewarding area debut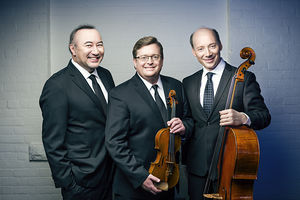 Canadian violinist Martin Beaver and British cellist Clive Greensmith played together for eleven years in the world-famous Tokyo Quartet, which disbanded in 2013. Both now teach at the Colburn Conservatory in Los Angeles, and they have teamed up with the Canadian pianist Jon Kimura Parker (based in Houston), who's had a distinguished career as soloist and chamber musician. Their performance delivered absolutely top-notch music-making, as fine as one could ever expect to hear. In works of Beethoven, Turina, and Tchaikovsky, the group made a forceful statement, with loads of personality and nearly perfect technical finish.
Parker is a virtuoso, but he completely understands the balance problems inherent in the medium, and never once did his sound cover the strings, even with the lid of the piano fully raised...in the third variation from the Tchaikovsky Trio, his virtuosity was thrilling; he not only mastered the careening arpeggios, but "played" with them, creating imaginative little musical gestures.
The two string players displayed similar mastery, and operated on the highest possible musical level; gorgeous sound from each and phrasing as one, but seeming also to feed off each other's energy in performance.
The Montrose has many engagements in upcoming seasons, and on the evidence of Friday's performance they are poised to become one of the top piano trios in the world.
—
Robert Battey,
Washington Post